Okay, so me and my family have been in France for 10 days now and we just moved to our next house and my little sister Lidewij was sick yesterday and we expected that we wouldn't be able to do anything today and that we would just have to sit in the house the whole day 🙁 So we went home and by that time she was already asleep. So we put her in bed and me and Eloïse (my sister, she is 13 years old and also has a blog. Here is the link: https://eloisem.net) But anyway, Eloïse and I started working on our blogs. Ilias my little 6 year old brother also went to bed and then at some point Eloïse and I decided to also go to bed and we had to go through there room to brush our teeth and I heard Eloïse screaming and I went in there to check what was going on and she said that there was a BAT in there!! At first I thought that she was joking but she was dead serious. And I saw it flying all over the place eating all the bugs and then I called my dad (Ian. He also has a blog, go check it out 🙂 here https://caliban.org) By the time he got in there with a flashlight the bat was already gone so me and Eloïse went to bed. Ok enough about yesterday let's talk about today, so we had our breakfast as usual and then decided to walk to a waterfall so we went in the car for an hour and when we got there we bought ice creams and started the hike, we didn't  know exactly where to go and we just guessed and it ended up being right we had a lot of fun at the waterfall and I managed to get a picture. Here you go 🙂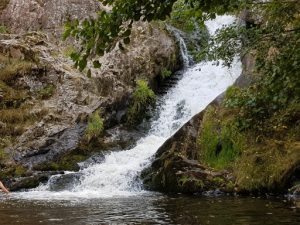 I also  have a dog, his name is Charlie and I got a picture of him to.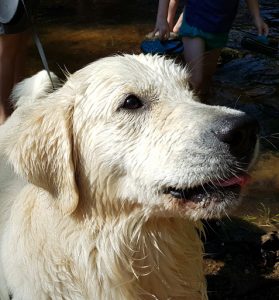 I have one more picture and that is of a pretty dragonfly that I saw.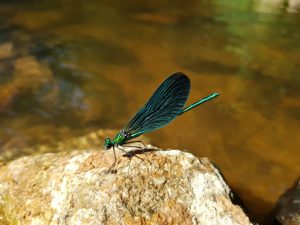 So after that we went to a pace to have dinner and I had fish and chips and after that we went home and the last thing I want to say is that tomorrow i'm going to pick my watch that just delivered to a shop near our house and I can't wait!!! 🙂